Introduction to a Study on Church Truth (Gibbs Bibliology)
Introduction to a Study on Church Truth (Gibbs Bibliology)
By Alfred P. Gibbs
This is a general work on Church Truth by renown author Alfred P. Gibbs. He has written a good work on preaching.
More Free PDFs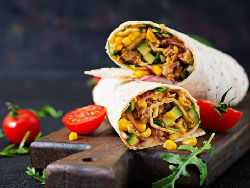 Buy me Burrito! Burritos are delicious. Meat, beans, sour cream, veggies, wrapped in a tortilla. We all enjoy burritos! But you know that you cannot have what is good without somebody paying for it. If you have enjoyed things on my website, please consider helping me maintain the expenses of this site. Consider at least a one time donation to this ministry of $10 or $20 dollars? Very infrequently (one person every 3-6 months) will somebody donate something. Usually that is all I receive from 34 websites! Yet, from my download statistics, I have about 96 gigabytes total being downloaded monthly from all of these websites. Be a blessing to me and donate any amount. It would be really great if you could gift me and my wife (who splits a burrito?) this money so that we could enjoy eating out at least once in a while. (I pay the expenses for these sites out of our living expenses.) God will richly bless you and repay you for your generosity. 1 Timothy 5:18 For the scripture saith, Thou shalt not muzzle the ox that treadeth out the corn. And, The labourer is worthy of his reward. If you received some value from my websites, consider at least a small donation. A big donation would really be nice, too, though.
Donate to David Cox Ministries.
Content of Introduction to a Study on Church Truth (Gibbs Bibliology)
Foreward
I. The necessity for such a study of Church truth
1. The utter confusion which obtains in Christendom
2. How this confusion came into existence
3. The further developments of this confusion
4. The present order of things
II. The value of such a study of Church truth to every Christian
1. The problem stated
2. The problem faced
3. The problem solved
Biography of Alfred P Gibbs
Alfred P. Gibbs was born in Birmingham, England in 1890 and was raised in Johannesburg, South Africa. He was led to a saving knowledge of Christ by his twin brother, Edwin. During World War I, Gibbs served as military chaplain, preaching to soldiers in training camps. In 1919 he set off for Moody Bible School in Chicago, Illinois. There he soon became involved in an assembly operated Rescue Mission. Gibbs worked alongside Harold Harper, T.B. Gilbert, James G. Humphrey, and other men destined to become well known in assembly circles of ministry. Gibbs became close friends with George Landis, who at that time pastored a small denominational church.
Alfred P. Gibbs never married. Like J. N. Darby, he lived out of a suit-case. Most of his writings were devoted to teaching young believers. He served part time for many years with, the then Emmaus Bible School. In1931 he published a songbook with music and words of his own composition. He also contributed several hymns to "Choice Hymns Of The Faith", and "Hymns of Worship and Remembrance." One of his most memorable hymns was "A Thousand Thousand Thanksgivings", and also "Sweet Is The Story."
More Biography
Although an earnest preacher of the gospel, he was best known for his work with children. Gibbs was called home to glory through an automobile accident in 1967. Following the accident, an entire issue of Letters Of Interest was devoted to him. Reminiscences of him were written by several well known brethren including his brother Edwin, Bill McCartney, Elliot Van Ryn, T.B. Gilbert, Lester Wilson, William MacDonald, and Lloyd Walterick. A.P. Gibbs will be remembered as a great preacher of the gospel, and a loving friend to all children he met in his entire lifetime.
1. The Lord's Supper 2. The Preacher and His Preaching 3. Scriptural Principles of Gathering 4. Worship, The Christian's Highest Occupation
More works on Bibliology